Who we are
Laynhapuy delivers Housing Maintenance & Infrastructure, Essential and Municipal Services within our Homelands, through our Homeland Services department. As specialists in remote area building, construction and logistics, we also work on non-government-funded projects for private enterprise.
With approximately 70% of our workforce being Yolgnu, we firmly believe in creating a sustainable workforce to manage the on-going housing and maintenance needs of our Homelands. We are committed to building capacity and self-sufficiency throughout our Homelands via accredited and non-accredited training along with on-the-job skills transfer opportunities. We also partner with CDP, to provide meaningful employment and training opportunities to local Yolgnu "work for the dole" participants.
Our core team of 30 plus includes – project managers and Yolgnu supervisors, carpenters, electricians, plumbers, a Yolgnu group trades laborers and assistants, Yolgnu transport and logistics driver, and a small civil works/MES team consisting of Yolgnu and supervisors. Our Yolgnu staff is supported by the NT Government Job's Converted Program, allowing them not only paid work but personal fulfillment by enabling them to assist not only their own Homeland but other Homelands with works required, including a Yolgnu team environment that is engaging and self-driven.  We have also been supported by a team of around 10-12 CDP participants on any given day who assist/travel within our Homelands with our small team.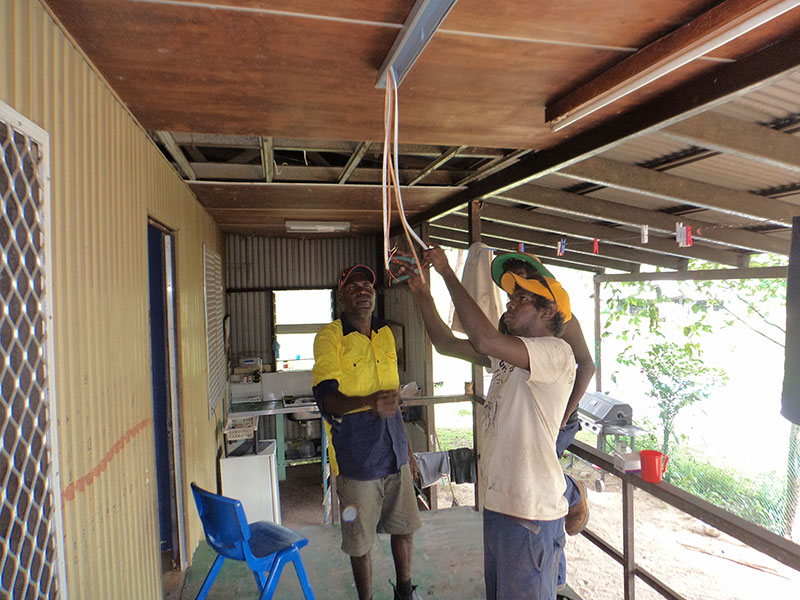 Homeland Services operates on a fee-for-service basis and with government funding support. We receive core funding from the Northern Territory Government's Department of Community Services.
Project-based support has also been received from the Australian Government's Department of Social Services, through the Remote Indigenous Energy Program, Aboriginals Benefit Account, and previously the Homelands Sustainable Living Project.